Register:
Administrator
Administrator
#1
TRON: Uprising
on 6/7/2012, 1:04 am
G@MeF@Ce
Administrator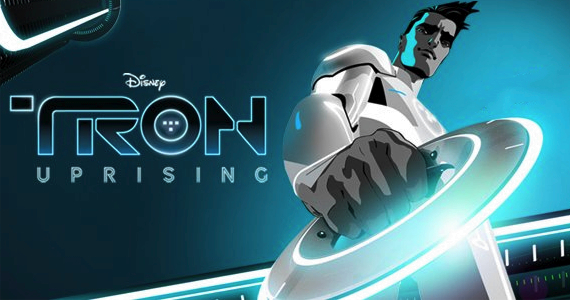 I've always been a tron fanatic ever since the first movie back in the 80's ... other than the arcade then PC game, it was a long wait for more "tron" until Legacy many years later...
Now I'm glad that tron fans have something to follow,
Uprising covers the story before Legacy,
it definitely has a little bit of that that 'eon flux style' in it's action and character design, lots of computer effects mixed in with animated art. Gotta love it ~ free system!
Ep1 Beck's beginning
Episode 1
"Beck's Beginning" May 18, 2012
Beck doubts his ability to live up to expectations, and passes on becoming the next Tron.
Episode 2
"The Renegade, Part 1" June 7, 2012
As Tron trains Beck, Beck begins to doubt the skills he is learning will be enough to prevail against Clu.
Episode 3
"The Renegade, Part 2" June 14, 2012
While Mara works with Zed to get Able's rare light cycle back, Beck must figure out a way to release his friend Cutler from a death sentence.
Episode 4
"Blackout" June 21, 2012
Mysterious blackouts begin to plunge Argon City into darkness.
Episode 5
"Identity" June 28, 2012
Beck loses his identity disc and must recover it before all that he is is lost forever.
Episode 6
"Isolated" July 5, 2012
Beck makes a daring theft and must escape; Paige engages him in an aerial dogfight.
Episode 7
"Price of Power" July 12, 2012
Beck defies Tron's orders to destroy a secret weapon; the Occupation takes programs captive.
Episode 8
"The Reward" October 19, 2012
Tesler's nightmares inspires him to rid of the renegade once and for all.
Episode 9
"Scars, Part 1" October 26, 2012
Tron's old friend arrives in Argon City. Tron will not let anything stand in his way to achieve his revenge, not even Beck.
Episode 10
"Scars, Part 2" November 2nd, 2012
Beck vs Tron! Tron vs Dyson! more of Tron's history is revealed.
Episode 11
"Grounded" December 3rd, 2012
Beck is on work probation. Tesler publicly challenges the renegade, again.
Episode 12
"We Both Know How This Ends" December 10th, 2012
Able leaves on a 'business trip' , Mara is left in charge of the garage.
Episode 13
"The Stranger" December, 17th 2012
A trap! Missing in action!! Super Weapon! The first renegade?
Episode 14
"Tagged" December, 24th 2012
Free code graffiti? The renegade recruits to deliver the message.
Episode 15
"State of Mind" December, 31st 2012
Orange dust, mind control, rave?
(*probably my favorite ep yet)
Episode 16 January, 7th 2013
"Welcome Home"
High speed train danger! More sexual tension between Beck and Paige.
Episode 17 January, 14th 2013
"Rendezvous"
Beck and Paige 'hang out' Pavel tries to frame Paige.
Episode 18 January, 21th 2013
"No Bounds"
Cyrus and his viral "behavior" playing games with Beck and Tron.
Episode 19 January, 28th 2013
"Terminal"
Tron is badly wounded by Cyrus, Beck puts a plan together...
Ep 20?
Administrator
Show Signature
Hey Guest, check out my demos!
Super Mockup Project
Cool Puzzle Cave
Into the Nexas
Web_Plat
Getroid
G.A.S.



---

G101's theme colors




shhh.... secret project



My Portfolio Page