Register:
EVENTALIST
EVENTALIST
#1
A_Noob_Made_Extractor_RMMV_VERSION!
on 29/10/2015, 4:30 pm
mr_wiggles
EVENTALIST
A_Noob_Made_Extractor_RMMV_VERSION
Version:
Version 1.0
Author:
Mr_Wiggles
Date:
10/29/15
Version History
---


V. 1.1 - Clean up some of the text filters and remove more garbage data.

---
This Script will read un-compiled Java script data (File.js) and with it compile a brow-sable local directory of .htm files where you can look up class Variables/Functions and their descriptions on use all in one place. The program was written in Ruby with the aid of RMXP, you do not need a copy of RMXP to use this.
The default class.js files for RMMV have been scanned but are not included! Also all this does is make a functional list database of the class information, it doesn't program for you, it will only list things. If you would like to use this for other things then RMMV just delete the .htm data and paste your un-compiled .js files into the extraction folder.
The Reasoning behind the name. Well simply put it was one of the first titles I used when I started scripting. It gave me dedication to learn something entirely new. So kinda as a tribute to how far I've come over the years of self teaching, I'm Including 'A_Noob_Made_' because it was truly made by a fellow noob.



Reads Java script and compiles a database with it using HTML code.

Just push space, it does everything for you but description tagging, because how would a program know what this._variable is 'described' as being used for?

Will read any un-compiled .js (Java script files) put threw the extractor. Not limited to RMMV.

Built in description tagging, just use '//#DF(@function_name) some text' to add descriptions that are read and added into the class.HTM files. (//#DV() for variables!) You can also use //#DF(c.) or //#DV(c.) to continue descriptions with out retyping the names over again. 'c.' pulls from the last time it was defined. Descriptions need to be flagged inside the function block or next too the variable being described for best results.

A full range of customizable font color/size and background colors.

There is also a choice to have it add to the description line number and file name it was found on to make manual look up faster!

Maintains cursor position in script data base, instead of jumping around looking threw all the scripts, stay on the line where your coding and look up Class functions, variables and said descriptions on use (If you create description flags). The main thing that i found slowing me down was class look ups, and then losing my place in a script. Now not anymore!

---
Screenshots
When its finished the HTM data base looks like this.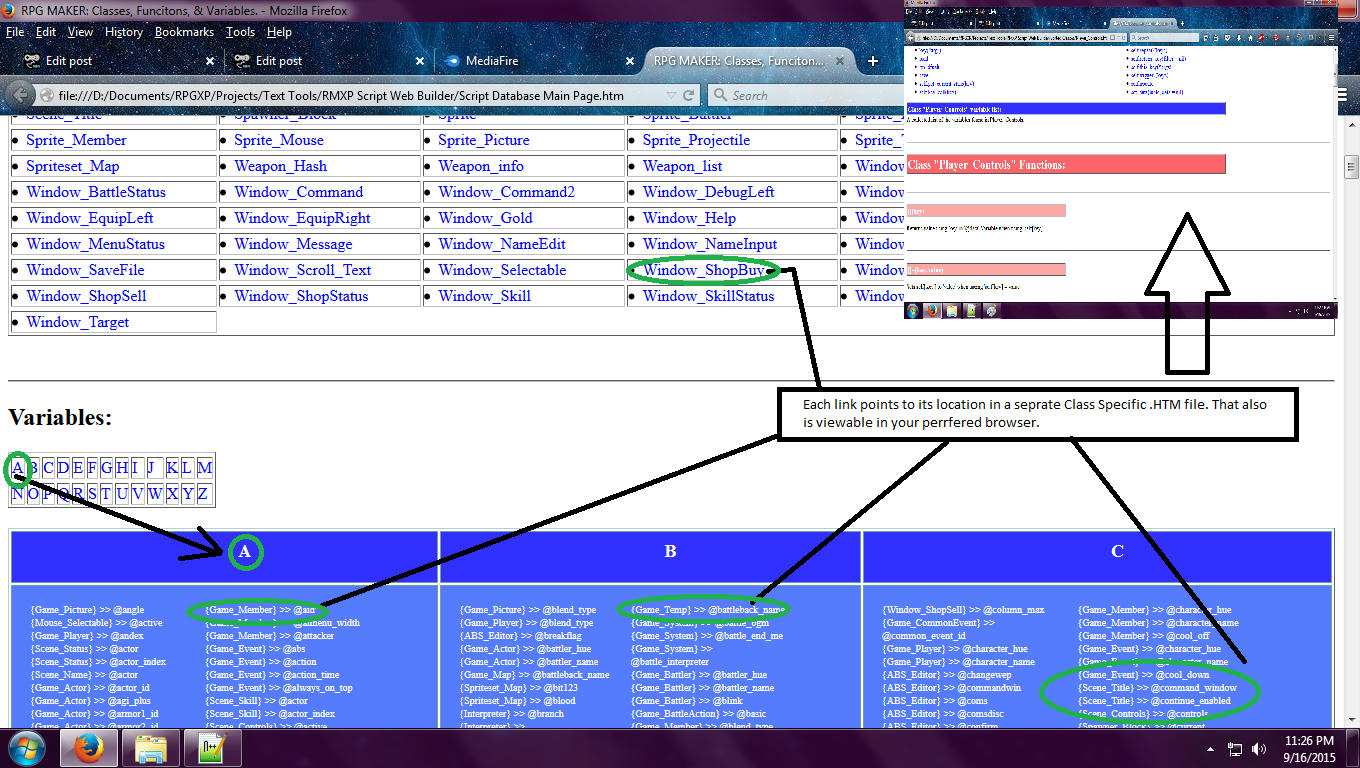 ---
Instructions
Put your .js files in the "Java Scripts" folder and run the compiler, your HTM database will be built automatically. Sit back and keep the program window on top layer for your OS. If you don't it will pause the Extractor!
Download Link
Version 1.0 RPG Maker XP Program, it is Non-Dependent Program.
Support
---
Known Compatibility Issues
Should work with anything, might have some 'junk' classes or variables pop up in the list.
Restrictions
None, well don't break the law with it... Other then that do with it what you want, if you'd like a simple credit to the author is OK with me.

---
A version of this for RMXP can be found here:
http://gameface101.playogame.com/t2025-a_noob_made_extractor#25192