Register:
Go to page : 1, 2, 3, 4

EVENTALIST
EVENTALIST
#1
Marlark - Minecraft Server
on 12/12/2012, 5:33 pm
mr_wiggles
EVENTALIST
Marlark - Now in FTB (
link
) with the Unhinged Mod pack! WITH OUT MYSTCRAFT!!
After you download the Client go to mod packs and select Unhinged and boot
the game once. ( This will download all the mods for that pack) Then exit game and open the client. Go back to the Unhinged Mod and select it and click on 'edit mod pack' this will open a GUI and allow you to disable Mystcraft.
In the end it should look like this: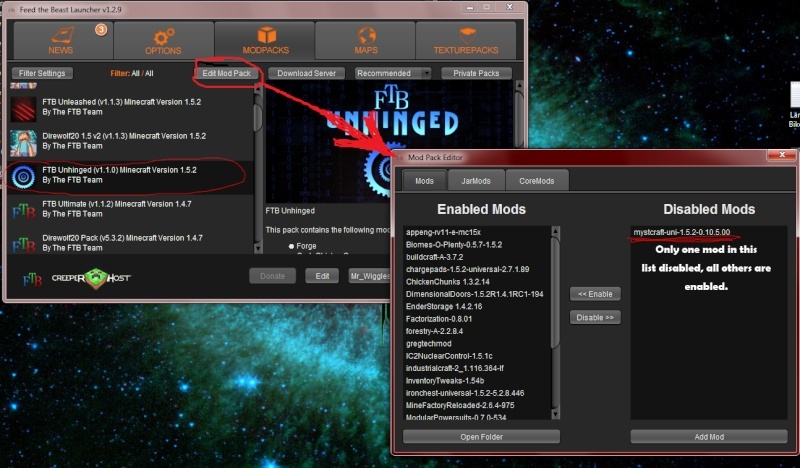 If you press F3 in game it will open debug window and show additional information. If your loaded mod number isn't at (65) then you did something wrong.
FIRST THING!! When you start the game go into the minecraft menu and edit controls. You will need to move the key binding for anything that uses 'M'. After that is done you will be able to press 'M' while in game and edit the Minimap settings. You might want to adjust the performance of the mini map due to the fact that it can cause lag. When the pack was created the Modders over looked this, it probably would be a good idea to look over all the controls, there are some new buttons.
After your all set up, use this IP to join the server. WHITE LISTED, Just shoot me a PM with your
minecraft name and i'll add you into the server. There wont be any OPs, THIS DOESN'T MEAN ITS NOT MODERATED!
IP: 71.82.174.246:24630  |  Server is:  Open!
The Wiki and Youtube are great help for unknown tasks!
FTB WIKI =
http://ftbwiki.org/Feed_The_Beast_Wiki
Alternatively in game you have the option of pressing 'R' or 'U' while highlighting an item in game. 'R' will show recipe if there is data for it, and 'U' will show use if there is data for it.
Been working on a Tutorial world to help everyone learn the new blocks and items on the server. (
Download 0.6
) <- old and stupid, might work on an adventure tutorial map.
Recommended Specs: (guessing but did research to get numbers)
CPU: i3 2.6 Duel core at least.
Ram: 2gb (on a 32bit system java can only use 1G of ram, 64bit Unlimited)
GPU: GeForce 43 or ATI Radeon 9600 and up.
WE DON'T SPAM DONATION REQUESTS!! If you wanna donate then get a hold of me. No one likes to play on a server that every 3 seconds you get an annoying reminder that you can donate to it! lol.
---
About the World.
I want this world to be for the player by the player kinda thing. Taking votes and changing the game as we play so that the server will best match what we're looking for. Not everyone can launch a server on their own. There is lots of reading and maintenance work that goes into it. What I'm Trying to do is allow a place where a friendly community who wants to play online and not hassle with greifers and is surrounded by players who are into the same things they are will help build factions and allow players to play with out doing extensive homework assignments in Nuclear physics or advanced crop genetics when we're in groups with people of their own specialty fields.


Server Game Play: Adventure Mode

PVP: ON

Forestry world: Yes

Dimensional Doors: Yes

Difficulty: Normal

Steal CookTime: 55s

Environmentally Friendly Creepers: Yes

Fast Travel MiniMap: Defualt group can still make way points to help find places. Reasoning, To help reduce lag on the server by limiting fast travels I'm reducing the potential of misuse and extra server strain/lag. Wanna help change this? Well then help me get a dedicated server machine then, or faster ISP don't complain about it, not everyone has an extra 1k laying around to throw into a machine for one purpose or can afford an internet bill of 200$!

CHUNKS:
Anchors can be used to help keep the world updating around you. When your too far away from machines or plants they are unloaded from the memory as to not cause leaks and run out of memory. Anchors are the solution to allowing a player to keep areas loaded in memory and keep machines like power generators operating while your half way round the world.
Personal Anchor: 8hr per pearl. (will only update while your online)
World Anchor: 4hr per pearl. (Will update for 4hours regardless if your on or not.
Server Rules:
+ NO ADVERTISING!! You don't see me or any of my moderators going onto your worlds and spamming requests for people to join our world! If you do spam i look at it like this:
A: Your looking to 'farm' people for money threw donations.
B: Your a hacker looking to get IP's and other player info to hijack accounts.
Both i think are bad....
+ There is equivalent exchange, meaning that the mod creators want a game that is still balanced so some items are VERY difficult to make and take A LOT of resources. Its' recommended to work in groups but not necessary.
+ Don't steal other peoples stuff, no one wants to work for 4 hours gaining materials and building super machines to have some stupid troll come in and steal/destroy all their work! Doing this will make others angry and cause raids and other fighting means...
+No flaming! Just because there isn't any protection for items, (unless you make a force field system but that's advanced!) doesn't mean if your a negative player you wont be banned or kicked!
+DON'T SPAM QUESTIONS! This is what the Wiki and the tutorial map ARE FOR! Doesn't mean we wont try to help, but when your busy doing other things and working on projects it's a tad annoying to be spammed with requests.
Joining the White list:
Just write up a small paragraph explaining how much you know about the mod pack Unhinged (you don't HAVE to know anything about it, I'd just like to get an idea for the tutorial world) and how you plan on playing on the server and that you under stand the rules we put forth and that breaking them will result in penalties such as item loss, Kick, or a Ban. OR BLACK LISTED!
To appeal a ban simply write up a paragraph explaining your actions and a nice apology later (depending on what you did!) your ban appeal will then be processed and the results will be sent back to you.
Above all just play respectfully and you'll do just fine!
---
Server Machine:
Running on:
OS: Windows 7 Ult 64bit
Ram: 8g dedicated
CPU: Intel i5 3.4 Quad Core
NET CARD: Realtek PCIe GBE RTL8167

Will be buying an additional Ethernet card and running a Virtual machine with dedicated net adapter for even less lag.
Right now there are some spikes when people join but that is due to the way i have it set up. The server builds a cache of map data around the player that their client can then pull from with out sending generation packets and causing lag while playing. This lag will also be noticed while fast traveling, it clears up quickly.
Because of the way Unhinged works there are multiple configurations that i have browses threw and drew up a list of the ones i thought people would like to know about. So please discuss and we can vote and edit as we wish for difficulty changing purposes. (most are default but i changed a few to help reduce lag)
SERVER GAME PLAY IN DEPTH DETAILS!!!:

#------------------------------------------------------------------------

!!!! Abandoned mine & chest loot chances !!!

Code:


Mine Chest loot % {
   I:armor.steel.boots=5
   I:armor.steel.helmet=5
   I:armor.steel.legs=5
   I:armor.steel.plate=5
   I:cart.basic=10
   I:cart.chest=10
   I:cart.tnt=5
   I:cart.tnt.wood=5
   I:cart.work=8
   I:creosote.bottle=20
   I:fuel.coke=20
   I:steel.block=5
   I:steel.ingot=10
   I:tie.wood=20
   I:tool.crowbar=10
   I:tool.steel.axe=5
   I:tool.steel.pickaxe=5
   I:tool.steel.shovel=5
   I:tool.steel.sword=5
   I:track.basic=30
}
#------------------------------------------------------------------------
Chest loot % {
   I:armor.steel.boots=5
   I:armor.steel.helmet=5
   I:armor.steel.legs=5
   I:armor.steel.plate=5
   I:cart.basic=10
   I:cart.chest=10
   I:cart.tnt=5
   I:cart.tnt.wood=5
   I:cart.work=8
   I:creosote.bottle=20
   I:fuel.coke=20
   I:steel.block=5
   I:steel.ingot=10
   I:tie.wood=20
   I:tool.crowbar=10
   I:tool.steel.axe=5
   I:tool.steel.pickaxe=5
   I:tool.steel.shovel=5
   I:tool.steel.sword=5
   I:track.basic=30
}

           # Enable burning of scrap in a generator
           B:enableBurningScrap=true

           # Enable crafting of buckets out of tin
           B:enableCraftingBucket=true

           # Enable crafting of Industrial Credit coins
           B:enableCraftingCoin=true

           # Enable crafting of glowstone dust out of dusts
           B:enableCraftingGlowstoneDust=true

           # Enable crafting of gunpowder out of dusts
           B:enableCraftingGunpowder=true

           # Enable crafting of ITNT
           B:enableCraftingITnt=true

           # Enable crafting of nukes
           B:enableCraftingNuke=true

           # Enable crafting of rails out of bronze
           B:enableCraftingRail=true

           # Enable activation of the quantum leggings' speed boost when sprinting instead of holding the boost key
           B:enableQuantumSpeedOnSprint=true

           # Explosion power of a nuke, where TNT is 4
           S:explosionPowerNuke=25.0

           # Maximum explosion power of a nuclear reactor, where TNT is 4
           S:explosionPowerReactorMax=35.0

           # Factor to adjust the ore generation rate
           S:oreDensityFactor=1.0

           # List of blocks and items which should not be turned into scrap by the recycler. Comma separated, format is id-metadata
           # these items are: glass plane, stick, snow ball, Scaffold
           S:recyclerBlacklist=102, 280, 332, 220
           I:soundSourceLimit=32
           B:soundsEnabled=true

           # List of valuable ores the miner should look for. Comma separated, format is id-metadata:value where value should be at least 1 to be considered by the miner
           S:valuableOres=14:3, 15:4, 16:1, 21:3, 56:5, 73:3, 129:5
           # change to 'creosote=true' to add smelting recipes for Creosote Oil to the vanilla furnace
           B:creosote=false
           
       grindableOres <
           Obsidian
           EnderPearl
           Coal
           Iron
           Gold
           Invar
           Aluminium
           Electrum
           Charcoal
           Copper
           Tin
           Silver
           Lead
           Bronze
           Brass
           Platinum
           Nickel
        >
   
Irontanks {
           # Change to 'allow.stacking=false' to disable the stacking of Iron Tanks
           B:allow.stacking=true

           # Allows you to set the max Iron Tank base dimension, valid values are 3, 5, 7, and 9
           I:maxsize=9
      }
Rail track & Modded Mine Carts {
           # change to 'useAltRecipes=true' to use track recipes more similar to vanilla minecraft
           B:useAltRecipes=true
           
           # change to 'ops.only=true' to limit the editing of Golden Tickets to server admins only
           B:ops.only=true
           
      cart {
           # change to 'bronze=false' to disable the bronze recipe for minecarts
           B:bronze=true

           # change to 'furnace=true' to enable the Furnace Minecart recipe
           B:furnace=false
           
           # change to 'steel=false' to disable the steel recipe for minecarts
           B:steel=true
           # change 'max.speed' to limit max speed on high speed rails, useful if your computer can't keep up with chunk loading, min=0.6, default=1.0, max=1.2
           D:max.speed=1.0

           # change the value to your desired max launch rail force, min=5, default=30, max=50
           I:force.max=30
           # change to 'breakOnDrop=true' to restore vanilla behavior
           B:breakOnDrop=false

           # change to 'collideWithItems=true' to restore minecart collisions with dropped items, ignored if 'register.handler.collision=false'
           B:collideWithItems=false

           # change the value to your desired minecart stack size, vanilla=1, default=3, max=64
           #
           I:maxStackSize=3

           # change to 'register.collision.handler=false' to use a minecart collision handler from a different mod or vanilla behavior
           B:register.collision.handler=true

           # change to 'solid.carts=false' to return minecarts to vanilla player vs cart collision behavior
           # in vanilla minecarts are ghost like can be walked through
           # but making carts solid also makes them hard to push by hand
           # this setting is ignored if aren't using the Railcraft Collision Handler
           B:solid.carts=true
           }
           
locomotive {
           # change to 'damageMobs=false' to disable Locomotive damage on mobs, they will still knockback mobs
           B:damageMobs=true
           
           # controls how much power locomotives have and how many carts they can pull
           # be warned, longer trains have a greater chance for glitches
           # as such it HIGHLY recommended you do not change this
           I:horsepower=15
          }
     }
#------------------------------------------------------------------------
worldgen {
   ####################
   # generate
   #===================
   # You can control which Ores/Features generate in the world here.
   # If wish to disable world gen entirely it is recommended
   # that you disable the World Module in 'modules.cfg' instead.
   ####################
   generate {
       B:abyssal=true
       B:quarried=true
       B:saltpeter=true
       B:sulfur=true
    }
   EU options {
       I:automationMinTickRate=5
       D:base.wireless.range=32.0
       I:craftingMinTickRate=0
       B:enableShiftInCondenser=false
       I:max.wireless.extenderBonus=2
       I:max.wireless.extenders=16
       D:powerUsageMultiplier=1.0
       D:powerWirelessDistanceMultiplier=10.0
       B:requirePower=true
       B:sharePowerLPRS485=true
       I:storageBusMinTickRate=5
       B:terminalAutoSearch=true
       B:terminalSearchToolTips=true
       S:terminalSortBy=Name
       S:terminalSortDirection=ASC
       I:terminalUpdateMinTickRate=0
       B:terminalUseLargeFont=false
       S:terminalViewItems=ALL
       I:updateMinTickRate=12
   }
   
   Nukular{
   I:SMPMaxAlarmRange=256
   I:alarmRange=64
   S:allowedAlarms=default,ops
   I:infoPanelRefreshPeriod=20
   I:maxAlarmRange=128
   I:rangeTriggerRefreshPeriod=20
   I:remoteThermalMonitorEnergyConsumption=1


Server Chunking!

Code:


TWEAKS!{
#If set to true and doFireTick is disabed in the game rules, fire will still dissipate if it's not over a fire source
doFireTickOut=true
 
#If set to true, creepers will not destroy landscape. (A version of mobGreifing setting just for creepers)
environmentallyFriendlyCreepers=true
 
#Set to false to make lava fade away like water if all the source blocks are destroyed
persistantLava=true
 
#If set to false, leaves will only replace air when growing
softLeafReplace=false
 
  B:CC.TurtlesCanBreakBlocks=false

       # This controls the maximum distance (in blocks) a player will teleport from drinking Ender.
       I:MFR.Ender.Range=16384
       B:MFR.Ender.Straw=true
       B:MFR.Glowstone.Straw=true
       B:MFR.Redstone.Straw=true
   }
   
   B:Crucible.BlazeRod=true
   I:Crucible.BlazeRod.Energy=2000
   B:Crucible.Netherrack=true
   I:Crucible.Netherrack.Energy=12000

   # Enable this for Liquid Ender to randomly teleport entities on contact.
   B:Liquid.Ender.Effect=true

   # Enable this for Liquid Glowstone to do...something.
   B:Liquid.Glowstone.Effect=true

   # Enable this for Liquid Redstone to emit a signal proportional to its fluid level.
   B:Liquid.Redstone.Effect=true
   
   ####################
   # craftinghandlers
   ####################

   craftinghandlers {
       B:Crucible.Override=true
       B:Furnace.Override=true
       B:Pulverizer.Override=true
       B:Sawmill.Override=true
       B:Smelter.Override=true
       B:Transposer.Override=true
   }
}
#------------------------------------------------------------------------
CHUNKING!

#The number of minutes since last login within which chunks from a player will remain active, 0 for infinite.
awayTimeout=10

#The number of ticks to wait between attempting to unload orphaned chunks
# Defualt = 30s
cleanuptime=600

#The maximum number of chunks per chunkloader
maxchunks=400
#------------------------------------------------------------------------
DIMDOORS!
   # Sets whether groups of connected rifts will spawn Endermen
   B:"Enable Endermen Spawning from Rifts"=true

   # Sets whether players that die in Limbo will respawn there
   B:"Enable Hardcore Limbo"=false

   # Sets whether the Limbo dimension is activated
   B:"Enable Limbo"=true

   # Sets whether players keep their inventories upon dying and respawning in Limbo
   B:"Enable Limbo Returns Inventory"=true

   # Sets whether Rift Blades can create new rifts. If set to false, they will only be able to create transient doors on existing rifts.
   B:"Enable Rift Creation with Rift Blade"=true

   # Sets whether rifts destroy blocks around them or not
   B:"Enable Rift Griefing"=true

   # Sets whether rifts create more rifts when they are near other rifts
   B:"Enable Rift Spread"=true

   # Sets the farthest distance that Limbo can send you upon returning to the Overworld
   I:"Limbo Return Range"=500

   # Sets the chance (out of 100) that Monoliths will spawn in a given Limbo chunk. The default chance is 28.
   I:"Monolith Spawning Chance"=28

   # Sets the number of times a rift can spread. 0 prevents rifts from spreading at all. A value greater than 5 is not recommended as the growth is exponential.
   I:"Rift Spread Modifier"=2
   
white-listed items { # items placed other than these will VANISH
   I:"Dimensional Door Item ID"=5674
   I:"Rift Blade Item ID"=5676
   I:"Rift Remover Item ID"=5671
   I:"Rift Signature Item ID"=5675
   I:"Stabilized Rift Signature Item ID"=5677
   I:"Stable Fabric Item ID"=5672
   I:"Unstable Door Item ID"=5673
   I:"Warp Door Item ID"=5670
    }
   
chest loot {
   B:"Enable Dimensional Door Loot"=true
   B:"Enable Fabric of Reality Loot"=true
   B:"Enable Rift Blade Loot"=true
   B:"Enable Rift Remover Loot"=true
   B:"Enable Rift Signature Loot"=true
   B:"Enable Stabilized Rift Signature Loot"=false
   B:"Enable Stable Fabric Loot"=false
   B:"Enable Transdimensional Trapdoor Loot"=false
   B:"Enable Unstable Door Loot"=false
   B:"Enable Warp Door Loot"=false
   }
}

Go to page : 1, 2, 3, 4