Administrator
STONED (HTML5)
08-30-2013
G@MeF@Ce
Administrator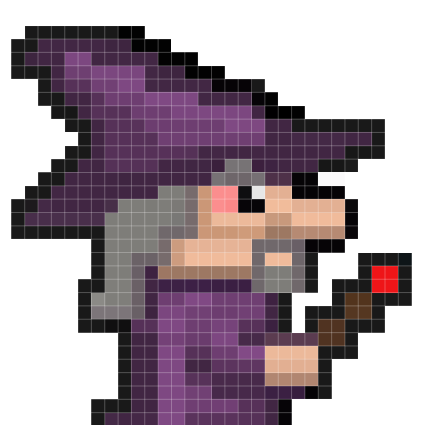 (click on the wizard to play)
STONED? V 1.2
HOW TO PLAY?
CONTROLS:
LEFT/RIGHT ARROWS = MOVE LEFT/RIGHT
Z= MAKE BLOCK (Z+DOWN ARROW = MAKE BLOCK BELOW)
X = BREAK BLOCK (X+DOWN ARROW = BREAK BLOCK BELOW)
SPACEBAR = JUMP (BREAK BLOCK ABOVE) (HOLD TO FLOAT WHEN FALLING)
(WHEN FALLING HOLD DOWN AND SPACEBAR TO SMASH BLOCKS)
HOLD X + DOWN ARROW = BREAK BLOCK UNDERNEATH
UP = SET STATUE CHECK POINT
HOLD DOWN + UP = TELEPORT TO STATUE
*find your way out of this stoney castle, each door has a key hidden in each room, avoid or counter enemy danger, happy hunting and puzzle solving before time runs out,
GAME PLAY:




STORY:

A wizard named Stoney get's lost in a stone castle and doesn't remember how he ended up there because he got stoned.
BACKSTORY:

If I can impress my brother swoop, then I can impress anyone. I caught a thread here about favorite NES games and when he mentioned Solomon's Key, I figured what tha heck... it's all in the reflexes.

@swoop - I promise to get you even more 'stoned' bro with some tricky difficult levels +

any members who would like to contribute to this HTML5 project using construct2, feel free to share your thoughts, ideas, music, graphics, level design, etc...
ENEMIES:

Ghost Toast

A poor unfortunate soul who died by getting stoned. Ghost Toast doesn't like the living and will attack if you get too close to it's tombSTONE.

*Tip break the tombSTONE and Ghost Toast will float away....

Gobble'n

These little trolls with the munchies are always paranoid about their food getting stolen.

That's not a club, that's a drumstick with a bite missing.

*Tip Gobble'n patrol but run away when you are within range, learn to control their direction when they flee...

Red Eyes

It is said that a Giant Hydra got stone and lost all of it's eyes, now the eyes are look for new sockets to call home, even if there's eyeballs in them already.

*Tip Red Eyes are slow but persistent, learn to lure them away from where you need to go.
CREDITS:


G@MeF@Ce
swoop
GizDaddy

CURRENTLY: 510.78KB data , 3.86MB sound, 2.64MB graphics
(would like to keep it under 5mb total)
NEXT VERSION:
+ preload sounds
+ more levels
+ 1st enemy
+ 1-3 to 1-4 bug (spawn at enemy)
+ stage timer
+life system
+continue system
+ break blocks above/below
+random tile for blocks
+random tiles for stage
+cooldown for set statue and teleport
+fall system

+ more animations
+ more secrets
+ more puzzles
+ more power ups
+ more enemies and more danger!
PASSWORDS:


"5lives" - start the game with 5 lives

"3timer" - start the game with 3 continues

"straight8" - start at level 1-8 with no continues