Register:
Go to page : 1, 2

Administrator
Administrator
#1
Shrine: Shield Portable
12/2/2015, 11:32 am
G@MeF@Ce
Administrator
This shrine is dedicated to:
the
Nvidia Project Shield Portable.
Helpful links and details will be added in time...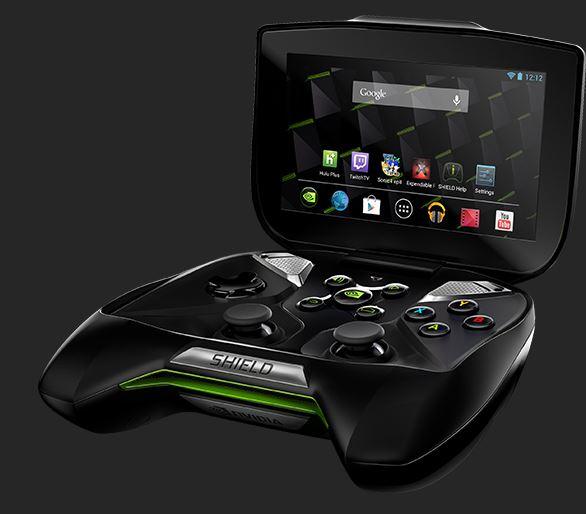 background:

The Nvidia Shield 'portable' (not the tablet) was released mid 2013 and didn't make it into the hands of many gamers, not because it was priced a bit high (starting at $350) or that there weren't many units, there weren't many games specifically for the device in a niche market and people didn't understand it's power of emulation. This powerful portable handheld gaming device has a 5' touch screen that flips up to reveal a full on Xbox360-like controller. In the back there's a cooling fan vent, microSD slot, headset jack, and HDMI mini port. Using the latest Android build KitKat, with a quad core mobile processor, 2GB of ram, 16GB of internal storage, and the capacity of 64GB external microSD...there's quite a library of games that this unit can handle and take with you on the go. Many games from the android market (play store) can be played on the shield, you can also stream games from your pc to the screen on your shield and use the shield as the controller to play the game, clever. Also there are many emulators that really makes this the greatest handheld gaming device of it's time. You could even pilot an AR drone!

Recommended Games & Other Apps:


Games List:
https://docs.google.com/spreadsheet/ccc?key=0Al_tgDiSllFFdGhJQ3p3d1JDTU0wS3IyNjVxdDB6MVE&usp=sharing#gid=0

G@MeF@Ce's recommendations:
*android games meant to be played on this device:

- Asphalt 8
- Bard's Tale
- Beach Buggy Racing
- Castlevania - Symphony of the Night
- Crazy Taxi
- Crossy Road
- Dan the Man
- Double Dragon Trilogy
- Duck Tales Remastered
- Luftrausers
- Fist of Awesome
- Gaurodan
- Gangstar Vegas
- Grand Theft Auto III
- Grand Theft Auto - San Andreas
- Grand Theft Auto - Vice City
- Gunman Clive
- Gun Slugs
- Gun Slugs 2
- HalfLife 2
- HalfLife 2 ep.1 ep.2
- Hotline Miami
- Hotline Miami 2
- Ittle Dew
- Jet Set Radio
- Jydge
- LEGO Star Wars: The Complete Saga
- Limbo
- MineCraft Pocket Edition
- MineCraft Story Mode
- Modern Combat 4 & 5
- Nimble Quest
- Pac Man Championship Edition DX
- Prince of Persia - The Shadow and the Flame
- Octodad Dadliest Catch
- Oddmar
- Oddworld Stranger's Wrath
- Oddworld Munch's Odyssey
- OlliOlli
- Portal
- Riptide GP 1 & 2
- Rochard
- Samurai2 Vengeance
- Shadowgun
- Shovel Knight
- Sine Mora
- Sky Gamblers - Air Supremacy
- Super Hexagon
- Swordigo
- Tesla vs Lovecraft
- The Deer God
- Titan Souls
- Wolf Among Us

(*games with gamepad mapper)
*Dead Space
*Delver
*Need for Speed - Most Wanted

*Ports: (need game files and supporting apk)
Quake
Quake II
Quake 3 Arena
Doom Touch
Doom II
Doom 3 (shaders disabled)

*Emulated: (need rom file and emulator apk)
FBADdroid (cps 1-3, neogeo arcade)
Mame4Droid (various arcade)
Mupen64 (n64)
Myboy! (gba)
NES.emu (nes)
ePSXe (ps1)
PPSSPP (psp)
dosBox (pc)

*Other Apps:
File Explorer - must have
Disable services (requires root access) *remove the update notification for Kit Kat users
Quadcopter (drone simulator)
Djay2 (portable partying)
VLC (best can opener for playing media files, music/movies)


helpful links:

Manufacturer:
http://shield.nvidia.com/portable-game-player/

Factory Reset:
http://nvidia.custhelp.com/app/answers/detail/a_id/3464/~/how-to-reset-shield-back-to-factory-settings-after-being-locked-out.

How to Root:
https://forums.geforce.com/default/topic/732693/shield-portable/rooting-your-shield-the-why-and-how/

Open Source Resources:
https://developer.nvidia.com/develop4shield#OSR

Android update:
http://greenrobotgamer.com/shieldzone/2015/02/12/shield-portable-upgrade-101/


Administrator
Show Signature
Hey Guest, check out my demos!
Super Mockup Project
Cool Puzzle Cave
Into the Nexas
Web_Plat
Getroid
G.A.S.



---

G101's theme colors




shhh.... secret project



My Portfolio Page

Go to page : 1, 2