Register:
Administrator
Administrator
#1
SHRINE: Lenovo s10-3t
on 25/7/2010, 2:00 pm
G@MeF@Ce
Administrator
backstory:

When I worked at Stanford I had to get a work laptop.

Went shopping online using the budget I was given and found the

Levono X201 Tablet PC

The processing speed was super fast! After a few weeks of tricking it out and getting familiar,I had started to go paperless and came across a whole new way in doing my job and staying organized

(event planning / property management)

during my down time I would dabble in web/graphic design,

freehand writing, freehand art with the stylus, and on the job I would use it for presentations, managing digitally signed contracts, and simply taking notes in a meeting with no paper.

the only down side really was that you had to use the stylus (does not have natural touch/multi point = must use the stylus)

Right before I resigned back in Mar 2011 to pursue other opportunities...

I knew that eventually I would have to turn my work laptop in unless I was willing to buy it.

I commonly use my desktop for the power but could sure use a netbook for the portability but wasn't looking to spend more than what an iPad would be worth... and I already knew that I wasn't going iPad because I needed to run RMXP, test projects for lag, even so I'm just much more of a pc and android guy for the hardware and software options vs the preloaded with everything... I like to customize.

I ended up purchasing another levono with my own money, this time it was the

S10-3t

.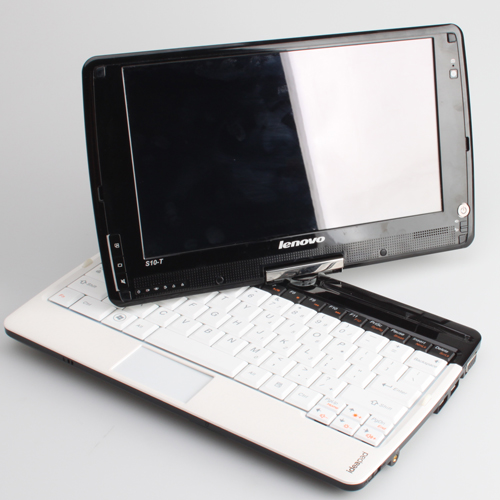 Lenovo's s10-3t(I call mine "taboo")
This device wasn't the fastest thing but the design was impressive enough for me to take home and use as an organizer. I never really did any tricks or hacks or mods to it, I basically just used it 'as is' for more than a year after purchase. I later find tips and tricks for it and then comes windows 8, once tricked out to install, this device runs faster and becomes worth every penny. There are lots of ways to "trick it out" with so many tips shared on the internet. I will continue to update this shrine with everything for the Levono s10-3t, my favorite "touch-net-book"
recommended hardware:



Install

- solid state drive ~must!
- 2G ram upgrade ~must!

Broadcom Crystal HD Decoder (requires flashing bios) ~optional

Peripherals
- 1 USB drive at least 4g
- 1 SD card at least 8g
- game controllers
- external speakers

Tools
- mini phillips screwdriver for laptops

recommended software:

system

windows 7 ultimate

windows 8 ~must!

games!

-plants vs zombies

-bejeweled 3

-CPS3

-GBA

programs!

-

InkSeine

*it's free and awesome for taking "paperless" notes!

-

Autodesk's Sketch Book Pro

*one of the best programs to sketch your art to life! (free trial)

- phoenix bios editor

- winphlash

- rainmeter

- rocketdock
recommended links:
windows 8:

* = updating

*download build

*

usb installer

*install

*tweaks:

1.) the resolution trick

desktop > win-key & X > command prompt > regedit

directory =  HKEY_LOCAL_MACHINE\SYSTEM\ControlSet001\Control\Video

search folders for all = 'Display1_DownScalingSupported'

edit the value data to equal '1'

restart system

change resolution

- tips - tricks -

recommendations

software:

decor8

s10-3t functions driver
last edit: 2/07/2014