Register:
Community Moderator
Community Moderator
#1
Spirit Gaurd Udyr Released!
on 17/7/2013, 3:09 pm
GeMinEye
Community Moderator
Community Moderator
profile
Hello Summoners!
You can become one with the four eternal spirits as Spirit Guard Udyr for just 1950 RP for four days after release. For those who haven't yet unlocked Udyr, a bundle will be available for 2295 RP.  When the sale ends, Spirit Guard Udyr will return to his regular price of 3250 RP!
Also log in and watch the amazingly desinged comic they have in the game client.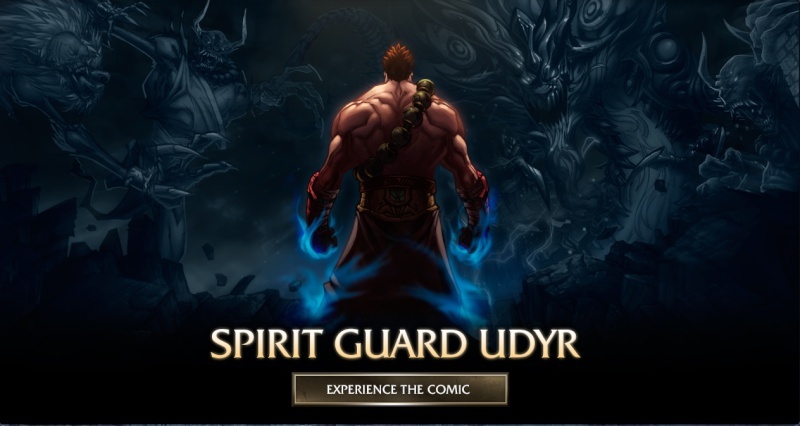 Community Moderator
Show Signature
Check out my story:
Screams of Darkness
WE WILL RULE THE WORLD!
Administrator
Administrator
#2
Re: Spirit Gaurd Udyr Released!
on 18/7/2013, 5:57 am
G@MeF@Ce
Administrator
the comic was inspiring, now I want to draw and program a simple story with bad @$$ art using HTML5
I really like the new login page for the client, toggle the spirits +
gosh I love to toggle
now that skin, is OP times 2, over powering and over priced if you don't get it before the sale ends. It would of been really ultimate if during level one, when you choose a spirit, say the bear, you would be a cub, later becoming a savage giant grizzly come level 18, etc...
I wonder if any of those demons in the comic are going to be in the game...¿?
Administrator
Show Signature
Hey Guest, check out my demos!
Super Mockup Project
Cool Puzzle Cave
Into the Nexas
Web_Plat
Getroid
G.A.S.



---

G101's theme colors




shhh.... secret project



My Portfolio Page