Register:
Administrator
Administrator
#1
The three Amiibos
on 8/8/2015, 4:34 am
G@MeF@Ce
Administrator
If your into 'Amiibos' (wii u toys to life) Wake up early be first in line at a gamestop, they open an hour early and offer about 30 - 60 pre-orders (first come first serve) for Nintendo's Rob Mr.Game & Watch and Duck Hunt Dog & Duck triple pack!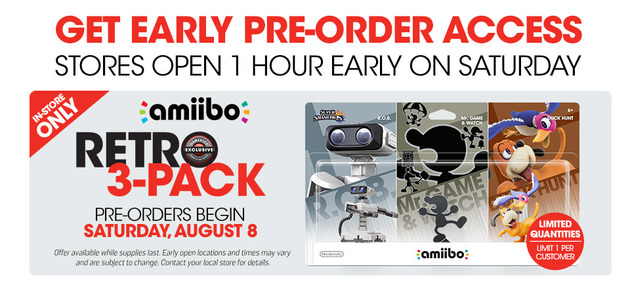 Limit 1 per customer
Pre-order starts 8/8/15
Release date 9/25/15
O' boy it's going to be nuts at my store tomorrow morning :~x
Administrator
Show Signature
Hey Guest, check out my demos!
Super Mockup Project
Cool Puzzle Cave
Into the Nexas
Web_Plat
Getroid
G.A.S.



---

G101's theme colors




shhh.... secret project



My Portfolio Page

EVENTALIST
EVENTALIST
#2
Re: The three Amiibos
on 20/9/2015, 4:47 am
mr_wiggles
EVENTALIST
http://www.nintendo.com/amiibo
So its like an action figure, for your games? That you can scan into them and use to unlock content. Sounds like an intresting concept.