Register:
Go to page : 1, 2, 3

EVENTALIST
EVENTALIST
#1
Wiggles Character Generator
20/3/2011, 5:11 am
mr_wiggles
EVENTALIST
Wiggles Character Generator
Version:
2.5
Author:
Mr Wiggles
Date:
December 27, 2014
Version History
---


Version 1.0 (3-20-11) - Initial release.

Version 1.2 (3-21-11) - Updated script.

Version 2.0 (7-2-13) - Completely new system.

Version 2.5 (12-27-14) - One Sheet system

---
This tool will allow you to create character sets from over layering sprite sheets for your games by combining pictures that are in the sub folders.
As of 2.0 this script will create FULL sprite character sheets including action graphics!
As of Version 2.5
- Using a slightly less framed character sheet, Kaizer's sprite style. linky. Attached is a zip file with the slightly altered template. [url=gameface101.playogame.com/download.forum?id=6]Here[/url]
Will be compatible with WABS.


Version 2.5 - New sprite sheet style

Version 2.0 - Mouse system Implemented

Create and Add your own unique graphics into the list easily by just pasting them in the designated folder.

Change the hues of the pictures in the editor to save space by not having multiple files in different colors.

Easy to use editor, just select what you want and it adds or removes it.

Name your file with an easy to use Text Input system by just typing on the keyboard.

Version 1.2 - You can add your own directories.

Version 1.2 - You can change the order of the layers for the graphics.

Screen Shot
Download: Version 2.0 * Standard RTP style
Download Version 2.5 * Single Sheet Style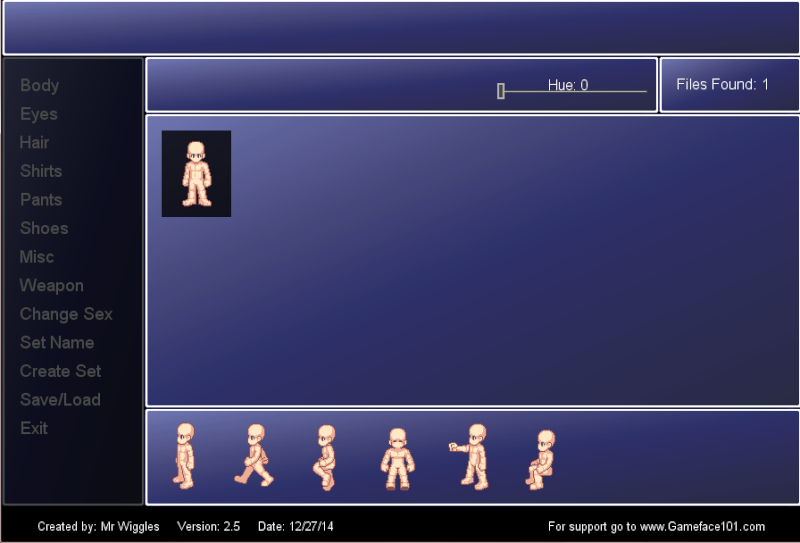 " />
---
" />
Go to page : 1, 2, 3